Grooved Fitting System
Grooved Piping System in Stainless Steel
A grooved pipe joint is comprised of four elements: the grooved pipe, the gasket, the coupling housing, and the nuts and bolts. The groove is made by cold forming or machining a groove into the pipe ends. A gasket encompassed by the coupling housing forms a seal on the two pipe ends, and the key sections of the coupling housing engage the grooves. The bolts and nuts are tightened with a socket wrench or impact wrench. In the installed state, the coupling housing encases the gasket and engages the grooves around the circumference of the pipe to create a leak-tight seal in a self-restrained pipe joint. There are two basic coupling styles that can be used on grooved pipe: flexible and rigid.

Flange Adapter Grooved
Reducing Tee Grooved
90° Elbow with Short Radius
Reducing Tee F/Threaded

45° Elbow
11.25° Elbow
Cross Grooved
22.5° Elbow
Tee with Long Radius

Rigid Coupling
Reducing Cross Grooved

Tee With Shoet Radius
Flexible Coupling

Reducer Grooved

Rigid/Flexible Coupling - 2.5 mpa
Reducing Flexible Coupling

Reducer F/Threaded
Mech Tee Grooved
Mech Tee F/Threaded
U-Bolted Mech Tee F/Threaded

Flange Grooved

Enconcentric Reducer Grooved
Cap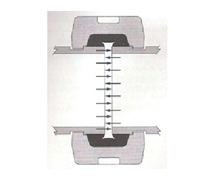 Faster Pipe Joints
Ease and Speed of Maintenance
Union at every Joint Offers Flexibility
Reliability
Economical to install
Reduced Noise and Vibrations
Corrosion Resistant thin Walled pipes (cheaper to use)
Benefits of Grooved Piping System
Coupling Housing Segment
A flexible coupling accommodates pipe deflection and or non-alignment as below : if nominal diameter 1;If nominal diameter>Dn200, deflection angle is >0.5 but<1

Gasket
With the removal of just a few bolts, you can easily access the system for cleaning maintenance, change or system expansion
Coupling Housing Segment
The C-shaped rubber gasket provide excellent self-sealing capabilities in both low and high pressure service as well as under certain vacuum conditions.
Coupling are non-directive and pipe can be rotated 360 during installation
Coupling Housing Segment
Coupling keys engage the full circumference of the grooves and provide significant pressure and end load restraint pipe movement from internal and exernal forces.
Bold/Nut
The design and construction of the coupling with elastomeric gaskets can provide significant noise and vibration absorption as well as seismic stress.
PressG is now introducing UL Listed and FM approved Grooved fittings from reputed manufacturers
Ductile Iron Grooved Fittings
| | | | |
| --- | --- | --- | --- |
| Feature | Ductile Iron Fittings | Forged Fittings | Remarks |
| Internationally Used in Fire Fighting | Yes | No | Internationally chosen Europe as well as USA |
| Internationally Approval | Yes, UL & Fm | No Approval | Fm Approval is basic criterion for fire fighting fittings |
| Test Pressure Working Pressure | 1500 psi / 500 psi | 1000 psi | Why use high pressure Fitting when actual pressure is 300 psi or less |
| Cost / Price | Low, 30-40% cheaper than Forget Fittings | Very High | |
Our Products
Why SS is Better?
Corrosion Resistance
Stainless Steel grades 304/316L have better corrosion resistance. Even copper has Green corrosion of Copper.
>> See Full Comparision Chart