Grooved Piping System
Grooved Piping System in Stainless Steel
A grooved pipe joint is comprised of four elements: the grooved pipe, the gasket, the coupling housing, and the nuts and bolts. The groove is made by cold forming or machining a groove into the pipe ends. A gasket encompassed by the coupling housing forms a seal on the two pipe ends, and the key sections of the coupling housing engage the grooves. The bolts and nuts are tightened with a socket wrench or impact wrench. In the installed state, the coupling housing encases the gasket and engages the grooves around the circumference of the pipe to create a leak-tight seal in a self-restrained pipe joint. There are two basic coupling styles that can be used on grooved pipe: flexible and rigid.
Benefits of Grooved Piping System in Stainless Steel: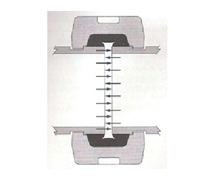 Faster Pipe Joints
Ease and Speed of Maintenance
Union at every Joint Offers Flexibility
Reliability
Economical to install
Reduced Noise and Vibrations
Corrosion Resistant thin Walled pipes (cheaper to use)
Stainless Steel Fittings
Coupler

Male Adapter

Female Adapter

Reducer

Elbow
Applications:
Main Water Supply, Pump Room Piping, Chilled, Hot & Cold Water, Fire Fighting System, Air Handling Units Materials Available: SS 304, SS 201,
For Details please contact : +91 8800394400 or request for detailed presentation.
Our Products
Why SS is Better?
Corrosion Resistance
Stainless Steel grades 304/316L have better corrosion resistance. Even copper has Green corrosion of Copper.
>> See Full Comparision Chart